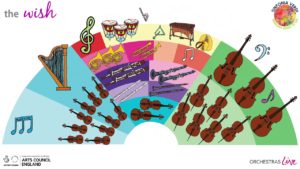 David's Orchestra Sinfonia Verdi performed The Wish for thousands of children at special concerts in Luton, Bedford, Dunstable and Milton Keynes.
The Wish is an interactive orchestral piece that introduces children to orchestral instruments in a vivid way. Written by John K. Miles and presented by Claire Henry, this new piece is very participatory with elements of theatre and singing.  The aim of the project is to inspire more children to learn an orchestral instrument!
Several advanced young musicians from the local areas  joined Sinfonia Verdi on stage, gaining experience of performing alongside professional players whilst acting as role models for the young audiences.
This project was produced by Orchestras Live in partnership with the Music Education Hubs for Bedford, Central Bedfordshire, Luton and Milton Keynes together with Sinfonia Verdi.
More information about The Wish, including photos and films, can be seen on the Orchestras Live website: http://www.orchestraslive.org.uk/featured-projects/the-wish/